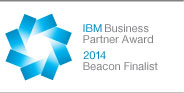 Interloc Solutions announces that, for the second year in a row, it has been named a finalist for the prestigious IBM Beacon Awards – this year in the category of "Outstanding Solution for MidSize Businesses."
This Beacon Award category recognizes an IBM Business Partner for excellence in building and delivering innovative solutions for midsized companies. Specifically, Interloc's solution addresses regulatory compliance using IBM Maximo for the Oil & Gas industry in Calgary, AB.
The Beacon Awards are IBM's premier Business Partner recognition program. Announced at the IBM PartnerWorld Leadership Conference in Las Vegas, Nevada, and selected by leading industry influencers and IBM executives from among hundreds of nominations, IBM's Beacon Awards recognize IBM Business Partners who have demonstrated business excellence in delivering IBM-based solutions resulting in client transformation and business growth.
"The Beacon Awards are a central and vital element of IBM's Business Partner recognition program," said Marc Dupaquier, General Manager, IBM Global Business Partners. "Recipients of these awards exemplify the ability to deliver business value to clients through innovative solutions, technical excellence and industry expertise."
"Interloc is honored to have been named a finalist for the Beacon Awards two years in a row," said Mike Watson, President & CEO, Interloc Solutions. "We believe that providing innovative solutions to our mutual customers extends the value of their Maximo implementations helping them to gain faster return from their software investment."
About Interloc Solutions
Interloc is 100% dedicated to helping clients realize the greatest potential from their Maximo investment, with award winning consulting services and innovative mobile solutions. Interloc takes Maximo business transformation to a whole new level with technology expertise. We know Maximo and can harness it to your industry requirements. Our highly experienced technology and business professionals excel at providing comprehensive, reliable solutions to address your enterprise asset and service management needs.
Interloc has reinvented Maximo mobility providing our clients with 100% user acceptance with the Interloc Mobile Informer for Maximo. Our innovative consulting services and mobile solutions have been validated by IBM and the Industry -- winning 3 IBM Awards, 1 Industry Award, and being named a finalist for 4 IBM awards in less than 2 years.