Interloc's Mobile Informer for IBM Maximo supports Leidos keeping air travelers secure and traffic flowing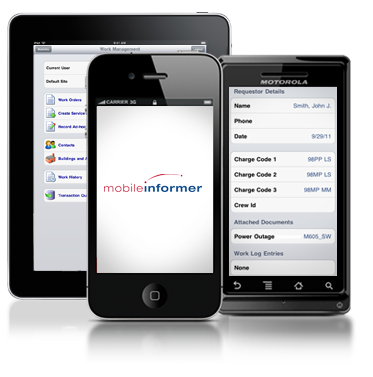 Interloc Solutions announced today the full deployment of a comprehensive Work Management mobile application as part of a $442 million contract awarded to Leidos to support transportation security equipment. Leidos is an applied solutions company focused on markets that are seeing converging business and technological trends that addresses basic, enduring human needs - defense and national security, health and life sciences, and energy, engineering and infrastructure.
Leidos was awarded the contract to maintain passenger security equipment for the Transportation Security Administration (TSA). As such, they are under strict requirements to meet specified service level agreements (SLAs). In fact, when problems are reported on passenger security equipment, they must be responded to within a short timeframe. The solution: a mobile application integrated with their IBM Maximo system to streamline maintenance.
Leidos turned to Interloc's Mobile Informer for Maximo
The simple native apps provided by Interloc's next generation Mobile Informer addressed Leidos' need for quick response times and high user acceptance. Leidos contracted with Interloc to fulfill their TSA requirement for mobile applications on Android devices. The applications needed were Inventory Reservation, Inventory Usage and Work Reporting.
The challenge: Interloc was given less than four weeks to deliver.
Interloc steps up
Even with such an aggressive schedule, Interloc was able to deliver Leidos the mobile applications required – with the user acceptance needed. Leidos then requested an application to run on iOS devices. Calling on the Interloc Mobile Development team, the native Android applications were recreated for the iOS operating system. The additional development took less than three weeks and provided the same function as the Android applications.
"To date, Leidos has released the app to the field force supporting over 450 locations and over 11,000 pieces of equipment ensuring Leidos' compliance with the TSA SLA," said R. T. Carter, PMP, Director of Logistics for the Transportation Solutions and Technology Applications Division of Leidos. Carter goes on to say, "Interloc's expert staff ensured that the applications were delivered on time and on budget. Interloc made the project a success."
Learn more about Interloc's Mobile Informer
Interloc's next generation Mobile Informer for Maximo delivers simple, focused, native apps that are 100% user accepted on iOS or Android smart devices. To get started on the road to Maximo mobility that works for your users and your business, request a demo today!