Award winning Mobile Solution for Maximo introduces new features, including MDM functions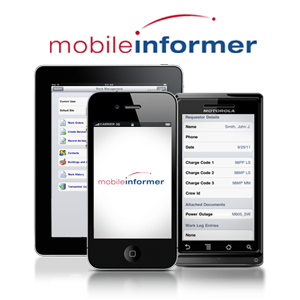 Interloc's next generation Mobile Informer – which delivers lightweight, extensible mobile applications for Maximo on smart devices (such as iOS and Android) and unique in its native integration within Maximo -- just got even better. Today, Interloc announces exciting enhancements to the Interloc Mobile Informer product, including many Mobile Device Management (MDM) features, catapulting the Interloc Mobile Informer into a class by itself.
While many businesses have an enterprise-wide MDM, it's often not possible to connect devices to that MDM prior to deployment. Now, Mobile Informer includes those important MDM features that ensure security, reduce corporate risk, and ease administration – during development and testing. With these new features in Mobile Informer, administrators can be assured that their mobile network and business data is secure in the event that any device becomes lost or stolen well before deployment.
In addition to the MDM features, this release also includes some major enhancements that further improve usability, development and adoption. One of these enhancements is separation between Informer development and administration functions. This provides a clear delineation between roles and responsibilities – providing for an enhanced interface.
This new release of Mobile Informer also provides additional significant enhancements such as:
Different views of the application based on user role

Application updates can be deployed by user profile versus individuals

Transaction errors can be resolved on admin server without involving field users

Public network documentation can be accessed via web

Exact same functionality (for example, attached documents) can be provided in restrictive (pull) and non-restrictive (push) environments
"With this new release of Mobile Informer, Interloc provided GSOC with flexible mobility for Maximo that is accepted by our users and secures the business," said Catherine Lai, Business Application Consultant, Georgia System Operations Corporation.
In short, with this new release of the Mobile Informer product, Interloc continues to make it simpler for you to extend Maximo with simple, native applications on smart devices. Interloc's continued investment in Mobile Informer showcases Interloc's commitment to providing the highest standards of next generation mobility for IBM Maximo.