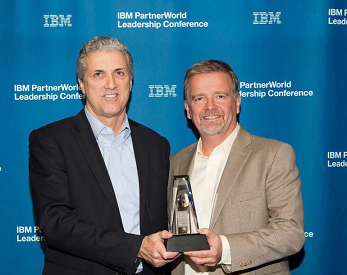 On February 10th , IBM announced that the Interloc
Mobile Informer
had been selected as one of two finalists for IBM's prestigious Beacon Award for Outstanding Software Solution for Service Delivery & Management for IBM Maximo. The Beacon Awards recognize IBM Business Partners who have delivered exceptional solutions using IBM products and services.
By delivering innovative solutions proven to drive business value, Beacon Award finalists and winners help transform the way their clients, their industries and the world do business.

"The Beacon Awards are an important component in IBM's recognition of Business Partners", said Marc Dupaquier, General Manager, IBM Global Business Partners. "These winners exemplify what it means to be a trusted business advisor and provide true transformative value to clients. They embody the ideals of the Business Partner of the future."

Interloc Mobile Informer is the only native to Maximo and native to device mobile solution that works both online and offline. Mobile Informer's purpose-built apps allow you to run your business your way. From OCR to Nearfield Communications and Fingerprint Detection to Redlining Documents, Mobile Informer puts you in complete control of your workforce apps. Mobile Informer can even integrate with wearables, like Android Wear, providing for true hands-free Maximo.

"This award is an extraordinary validation of our Mobile Informer solution and shows the benefits achieved by providing purpose-built apps that exactly match your business process," said Michael Watson, President & CEO, Interloc Solutions.

This is the third time that Mobile Informer has been recognized by IBM, winning Best of Show at IBM Pulse 2012 and being named a finalist for the 2013 IBM Beacon Award for Best Solution for Optimizing the World's Infrastructure.

About Interloc

Interloc is 100% dedicated to helping you realize the greatest potential from your Maximo investment, with award winning consulting services and innovative mobile solutions. We are passionate about putting our IBM Gold technical accreditation to work for you to get the results you need for your company. Interloc's extensive industry experience will harness the power of Maximo to meet your business requirements providing comprehensive, reliable enterprise asset and service management solutions.

Together, Interloc's innovative consulting services and mobile solutions have been validated by IBM and the Industry -- winning 3 IBM Awards, 1 Industry Award, and being named a finalist for 4 IBM awards in less than 2 years, including 3 IBM Beacon Award finalist slots – two for Mobile Informer.
Please feel free to contact us for additional information.